This article is incomplete. That's what's missing: Story and Ending Dialogue.
The mission "
B-1: A Job for a Plumber
" is the first mission in the
Haunted Towers
of
Luigi's Mansion 2
. In this,
Luigi
has to reactive the
Hydro Generator
from the infestation of a
Gobber
.
For the location of the Boo, go here.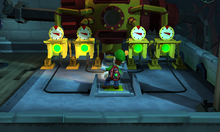 For the gem locations, go here.
Mission Blurb
"The towers' machinery isn't active. I'm guessing the ghosts broke it already. We need to get the Hydro Generator running before we can search for the next Dark Moon piece."
Starting Dialogue
"Our quest is taking us to a new location, Luigi! Aren't you excited? No? Ho ho! Come on! Where's your sense of adventure, son? Our work is far from done. We need to get a handle on these ghosts, or who knows how far they'll spread! And there's only one way to fix this mess - restore the Dark Moon and place it back up in the sky. My Parascope has located the new piece somewhere in these Haunted Towers. They've been abandoned for some time now, so they're teeming with exotic plants and, naturally, ghosts! The towers are in bad shape, and the water system seems to be broken. If only we had a plumber around here... You see, the Haunted Towers feature a complex water system that powers all the machinery. So the first thing on your to-do list will be to check the Hydro Generator. Of, and keep an eye out for new types of ghosts. That goes without saying. Good luck, young feller!"
Mission Goals
Overall Goal
Other Goals
Videos