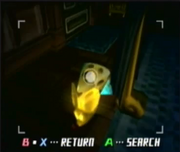 Cheeses are somewhat common items found by Luigi in Luigi's Mansion. They are placed in rooms rather spontaneously. If Luigi selects this cheese with the Game Boy Horror with the A button, a very rare and valuable Gold Mouse will appear.[1] The mouse will then appear whenever Luigi crosses a randomly selected mouse hole, which will be announced by a distinct chime; Luigi can suck this mouse up for lots of money. This cheese appears only in the dark, and resembles a triangular prism with several holes in it, similar to Swiss cheese.
Locations
References
↑ As confirmed in the Official Nintendo Power Player's Guide.
Ad blocker interference detected!
Wikia is a free-to-use site that makes money from advertising. We have a modified experience for viewers using ad blockers

Wikia is not accessible if you've made further modifications. Remove the custom ad blocker rule(s) and the page will load as expected.