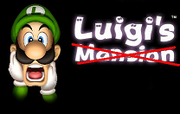 "LM:A" redirects here. You might be looking for Luigi's Mansion:Administrators.
Luigi's Mansion Wikia, alternatively Luigi's Mansion Wiki or Luigi's Mansion, not to be confused with the game Luigi's Mansion, was created to compile a complete, thorough, and dynamic repository of information relating to the game, Luigi's Mansion and its sequel, Luigi's Mansion 2. Both games are single-player action-adventure games published by Nintendo. Luigi's Mansion is a wiki, meaning that it is written and maintained by the community and can be instantly edited by a variety of contributors and helpers.
This wiki was found by Drilly Dilly (Talk) (fomerly known as WolfLink33).
Luigi's Mansion and its sequel are designed to include content relating to a number of issues including the treasures themselves, characters, rooms, strategies and techniques, competitive play, the vibrant community that has developed around the game, and much more. Besides being a resource for advanced players looking to improve their game, it is also designed to be of use to beginners just learning how to play, those who enjoy playing Luigi's Mansion for fun, and even those interested in learning more about the heritage of the various elements that make up the Luigi's Mansion series.
If you are interested in helping us improve this wiki, please considering registering for an account here. If you already have an account, log in and begin editing! Let the Wikiness fun begin! Everyone is free to create a new page or edit an existing one. You can help out by looking at our wanted pages or short pages.