Mario Kart is a Kart racing series and spin-off of the Mario series (much like Luigi's Mansion) featuring several Luigi's Mansion characters, stages, ect.
Connection with Luigi's Mansion
Luigi
has appeared in all eight entries in the Mario Kart series.
Mario
,
Bowser
,
Toad
and
King Boo
have also been frequently appeared in the series if not always.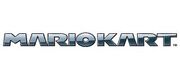 Mario Kart DS
Luigi's Mansion makes an apperence as a playable track in Mario Kart DS as the final track of the Mushroom cup. The Poltergust 4000 Luigi's main kart is heavily based on the Poltergust 3000 from Luigi's Mansion. The track takes place inside the mansion and a backyard filled with demonic trees and mud.
Mario Kart 7
The Luigi's Mansion stage from Mario Kart DS makes a reapperance as a retro track in Mario Kart 7 for the 3DS.
Mario Kart 8 Deluxe
Mario Kart 8 Deluxe introduced a Luigi's Mansion Battle Course