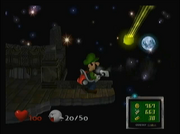 Meteor Ghosts
are ghosts that can be found by
Luigi
only in the
Observatory
of
Luigi's Mansion
.
Story
When Luigi first enters the Observatory, the first thing he notices is a small telescope. Luigi can then walk towards it and get a better look. When he looks through, he notices a small moon; at which point the Meteor Ghosts try to attack. Luigi is able to suck a Meteor Ghost into the slot of his Poltergust 3000. He can then fire it at the moon, causing the it to explode, revealing a path to Mario's Star.
Trivia
Luigi does not lose any HP if he is hit by a Meteor Ghost, making it one of two types of ghosts in-game which cannot deal damage, the other being Ceiling Surprises.
Ad blocker interference detected!
Wikia is a free-to-use site that makes money from advertising. We have a modified experience for viewers using ad blockers

Wikia is not accessible if you've made further modifications. Remove the custom ad blocker rule(s) and the page will load as expected.